The new blog!
As many of you that follow me on Twitter will know, I confessed a few days ago that I've put on all the weight I'd lost in just a year. Although I've escaped many of the issues surrounding COVID, for some reason I have really struggled through the lockdowns, particularly with my mental health, and like many people, I use food as an emotional crutch. I don't really drink and have never smoked or taken drugs so it's always been food... cakes, chocolate, crisps, you name it, I'll wolf it down!
I'd always decided to have a break from the pressure of doing the steps target when the previous challenge ended but after working in Sainsbury's (June-August 2019) doing early morning shifts, it soon became apparent that I was going to struggle to continue walking. Not only were the 3am starts tiring, it was the complete disruption of my working day. I basically spent four or five days a week shattered, hence I couldn't get myself out to walk. The job was picking orders which sounds easy enough and most of the time it was. I ended up doing around 7,000-9,000 steps per shift but it was all short, twisty movements which put pressure on my knees to the point where I was struggling towards the end of a shift. That also went some way to me feeling like I couldn't go out for a walk and hence the leisure walking stopped completely as a result.
The job and the injuries, combined with my lack of willpower and decision not to worry too much about what I ate means that now I've weigh in at 22 stone 13 pounds. That puts me back to the beginning of my journey on July 1st 2019. However, I'm quite confident that I can shift this newly arrived weight off again. I need a new target so am thinking of trying to lose a hundred pounds in a year, tricky but achievable especially as the first two or three stones should come off quite quickly
We'll see how it goes but another reason for getting back on the horse, so to speak, is my mental health. While I'm far from a sufferer of any serious MH issues, I do feel a lot worse these days now I've lost the benefit of going out for a walk along the railway path. To be honest, in the first lockdown, the path wasn't a great place to be as it was sometimes too busy to enjoy. That's great in the bigger picture but selfishly from my personal point of view, I just couldn't enjoy the last few weeks of walking on there.
As someone that spends a lot of time in front of a PC, I genuinely enjoyed the break from it all and the ability to walk in a field, along the cycle path, beside a river, climbing a hill etc. So all in all, hopefully it's back to "business as normal", I hope. Will try to update the blog regularly and am determined to achieve the 5k steps every day too. Thanks for following, and let's hope the weight starts falling back off again soon.
Monday 1st March - Sunday 7th March 2021
I've always started my weight loss challenges really well with impressive losses in my first week. I'm usually emotionally ready, keen as mustard and this reflects in the first week's numbers which have always been superb. After I confessed all on social media last week, I received many encouraging messages of support from friends and as I've always admitted, these really do help. Knowing that people are behind you willing to do well is a huge boost to me and losing weight for me is as much mental as it is physical.
So this week, I managed to successfully build in a route in my courier run that I could walk. I park my car outside my first customer & walk to numbers two, three and four before returning to my car. It's around four miles in total, only 3.5 miles though if customer three hasn't got any mail. It took around an hour and ten minutes to complete and I did it Monday - Thursday. On Friday, I had to leave for Reading at 10.15am and Saturday's I don't do the courier run so made up the miles elsewhere. On Sunday, I completed a lovely seven mile circular walk from my house via Bitton, Swineford and Saltford to home. It's so lovely, a chill in the air but such a pretty walk, one of my favourites (see picture below).
Anyway, ended up doing 63k steps this week, walking more than 25 miles which, combined with a good diet has resulted in a TEN POUND LOSS!!!! Utterly elated with this as I've never lost this much in one week before, shows what can be done when I'm 100% on my game. Can't promise this again this week, or any week to be honest, but it's a great start and all I could have wished for.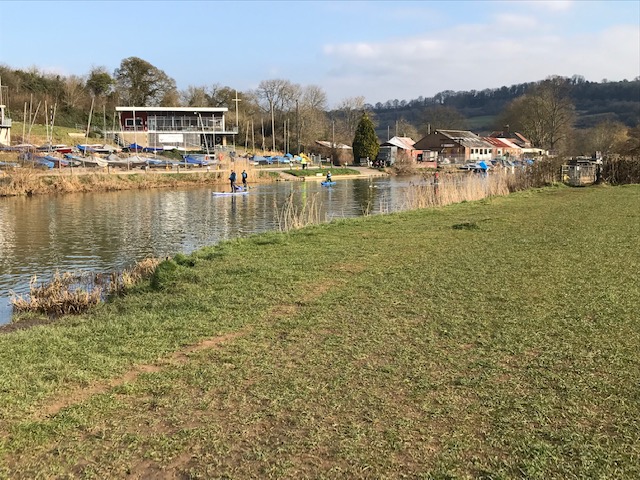 Week One - 10 pounds lost. 63,070 steps, 25.37 miles walked, 5k steps target achieved every day
© Copyright A Change Of Mart